Current COVID-19 Response
Masks are REQUIRED for all of our staff and everyone entering our facility
WHAT WE ARE DOING TO PROTECT YOU AND YOUR FAMILY!
Drop-off and pick-up will be outside the facility to considerably reducing the spread of germ inside the facility.
Screening procedures
Will be in place to ALL individuals entering our facility according to CDC guidelines.
Temperature check for staff and children upon arrival
NO CHILD or STAFF WILL BE ALLOWED in school with ANY signs of illness, difficulty breathing, fatigue, or extreme fussiness; minor cold, cough, runny nose.
Social distancing strategies in accordance with CDC recommendations
Teachers and staff will practice social distancing minimizing their interaction and being 6ft apart from each other when they must go into a shared space.
Our school has always operated in small groups but during this time, we will limit the mixing of children and keep each group of children in a separate room or area to the best of our ability.

Cleanliness is our TOP PRIORITY - We have intensified cleaning and disinfection efforts throughout the day with EPA Registered Cleaning Products. All of our classrooms have a detailed cleaning list and schedule that focuses on toys, tables, chairs, soiled objects and frequently touched surfaces.
Educating and Guiding our Students to maintain safe behavioral practices

Increased handwashing frequency
Avoiding touching eyes, nose, and mouth
Best Practices when coughing or sneezing
Healthy Eating and Stay Active to promote good health
HERE'S WHAT WE ARE ASKING OF YOU:
Get VACCINATED - Everyone 5 years of age and older is now eligible to get a free COVID-19 vaccination.
Continue to wear masks indoor, even if you are vaccinated. - Everyone entering our facility (including our staff) will need to wear a face covering. Here is more information from the CDC on the use of face coverings.
Wash your hands often with soap and water for at least 20 seconds. And don't forget to teach this practice to your children, as we do enforce this practice all day long at school.
Avoid close contact with people who are sick.
Stay home away from others if you are sick.
Cover mouth and nose with a tissue when coughing or sneezing, then throw the tissue in the trash and wash your hands.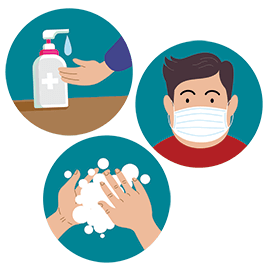 We've compiled a list of helpful resources for you about Covid-19 or Coronavirus:
Coronavirus Video: How to Teach Kids About COVID-19